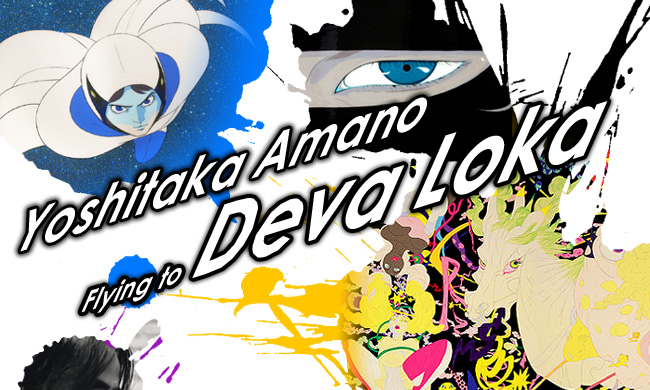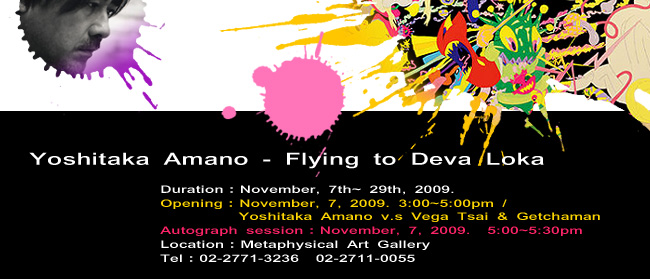 Yoshitaka Amano ¡V Myth of Science Ninja Team Gatchaman
Fly High! G-Force! The theme song of Science Commando Gatchaman brings back many pleasant memories and reveals heartwarming reflections on heroism as well as sense of justice.?
From TV Animation to Work of Art, the Gatchaman legend of Yoshitaka Amano has become closer to us with less screen isolation and more great enthusiasm. The new age Gatchaman reshapes the superhero image and leads us into Amano¡¦s talent art territory that is full of fantastic illustrations and magic adventure.
In 1967, Yoshitaka Amano was introduced to the early Japanese anime movement, such his classic artwork for character designs as Gatchaman, Honey Bee, and Speed Racer and the like, etc. In the early 1980s, he concentrated on illustrations with worldwide recognition for influence of his animation and other works. In 1983, he was awarded in the 14th SF¬P¶³½à and further won the honor for the continuous four series. In 1987, he was devoted to conceptual design for video games to work on the Final Fantasy featuring visual devise and role design. This masterpiece opened a new realm for Amano that he even could explore stage and costume design and other artwork fields including his colorful glass Evil Moonlight Shadow Festival and limited printmaking. During the time while working as illustrator, character designer and set designer, he had exhibitions of his becoming well-known for his printing works. In 1997, he established his workshop and exhibition "Think Like Amano" in New York to create his fantasy world.
One may find that the eccentric beauties or heroes in Amano¡¦s artworks are often cross-cultural. These strange, fantastical characters rouse a riotous intersection of reality and virtual reality. The caricatures in Amano¡¦s artworks, that look extraterrestrial or prehistoric, have encountered a new reality that exists within the imaginative world. He crosses time zones and borderlines into fictional spaces that result from his abundant science fiction illustrations. The eyes in Amano¡¦s paintings are often overly exaggerated as if they are looking at the viewers from another world. The emphasized quality of lines is significant for Amano¡¦s artworks because these are the traces of his hand; this is the evidence of his presence. In his Sister, Candy girl series Amano chooses simple compositions; parts of characters are painted on smaller-sized canvases. But the partial, segmented images do cover up the canvas with power. These recreated old school characters, demonstrates Amano's creativity through appealing and interesting juxtaposition.
If his previous work could be categorized by being in between illustration and Contemporary art, his recent work can be described as shifting and committing completely to the presets of Contemporary art. Deva Loka, an epic project Amano eagerly created with much drive. Deva Loka, a work that was crystallized through much time and imagination, carries significance because it encompasses Amano's world of art. The main concept for this project is the Big Bang, a phenomenon that brought about all the planets in space. His composition in this piece resembles that of a giant explosion in the middle of the canvas, with ambiguous animals and objects rippling away from the central fairy figure; the heart of the outburst. Although the subject of this title doesn't suggest reality or logic, it does suggest a futuristic atmosphere. Deva Loka is a means for Amano to show the creation myth of his fantastical world with extravagant and spectacular expressiveness that resembles that of the Big-Bang. His unique technique of applying varnish over bright and glittering paint is also noteworthy, and grabs the eye's interest.

At the age of 15, Amano was exposed to explore the art world through various media as well as performance. The guru Lu once predicted the tremendous power would dominate the trend of art creation and Amano would be one of the most influential artists in 21st century. As Amano mentioned, ¡§my inspiration comes from the life. Each person has his or her past, now, and future. What I can do is to keep moving forward. As a matter of fact, there is no exact answer to the unknown future. From the Gatchaman to Deva Loka, Amano has been leading us to his fantastic world of myth to experience the special pleasant journey.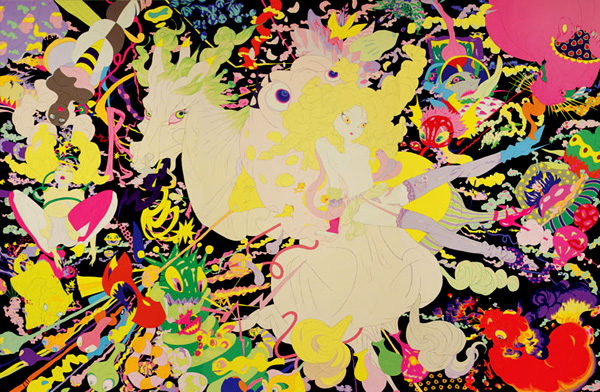 Large Deva Loka¡@200x300x10cm¡@Mixed media on aluminum panels¡@2009
Deva Loka

200x140x10cm
Mixed media on aluminum panels
2009
Bom 1

50x50x10cm
Mixed media on aluminum panels
2009
Bom

50x50x10cm
Mixed media on aluminum panels
2009
Candy Girl 1

50x50x10cm
Mixed media on aluminum panels
2009
Candy Girl 2

50x50x10cm
Mixed media on aluminum panels
2009
Candy Girl 3

50x50x10cm
Mixed media on aluminum panels
2009
Candy Girl 4

50x50x10cm
Mixed media on aluminum panels
2009
Candy Girl 5

50x50x10cm
Mixed media on aluminum panels
2009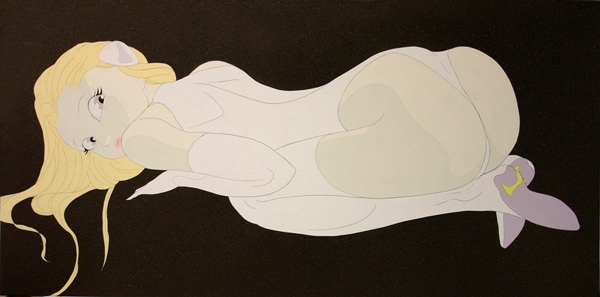 Large Candy Girl¡@100x200x10cm¡@Mixed media on aluminum panels¡@2009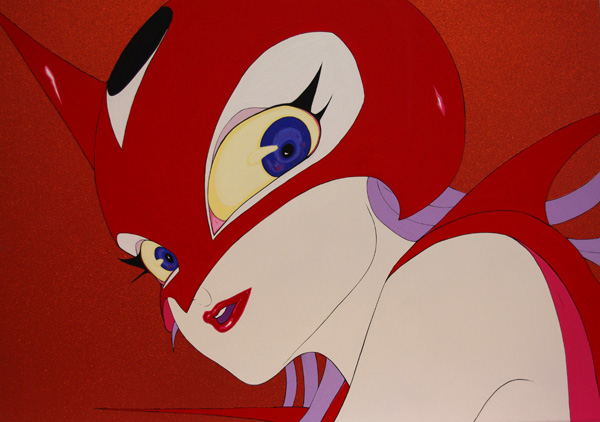 Sister1¡@70x50x5cm¡@Mixed media on aluminum panels¡@2009
Sister2

70x50x5cm
Mixed media on aluminum panels
2009
Gatchaman

50x50x10cm
Mixed media on aluminum panels
2009
Untitled(YA_0089)

50x50x10cm
Mixed media on aluminum panels
2007
Untitled

50x50x10cm
Mixed media on aluminum panels
2007
Untitled

50x50x10cm
Mixed media on aluminum panels
2007
Untitled(YA_0084)

50x50x10 cm
Mixed media on aluminum panels
2007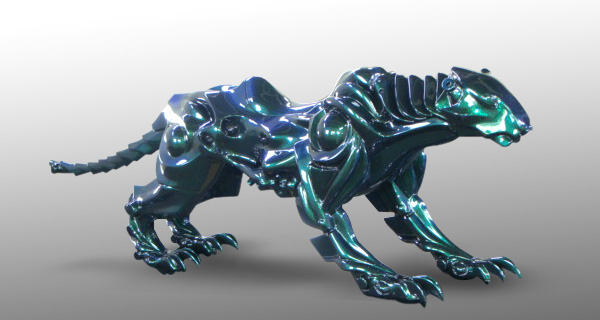 Sculpture - Panther¡@100cm¡@Sculpture¡@2009
DL-I
?
50x50x10cm
Mixed media on aluminum panels
2007
Ka Ka

50x50x10cm
Mixed media on aluminum panels
2007
Shu

50x50x10cm
Mixed media on aluminum panels
2007