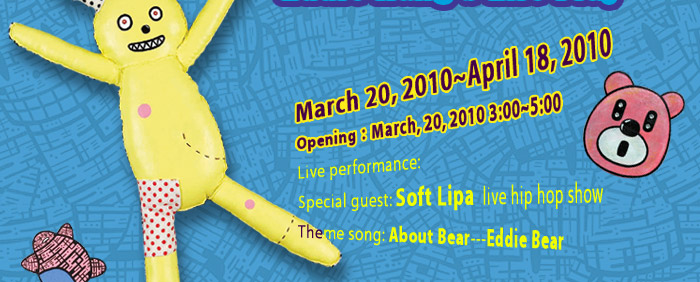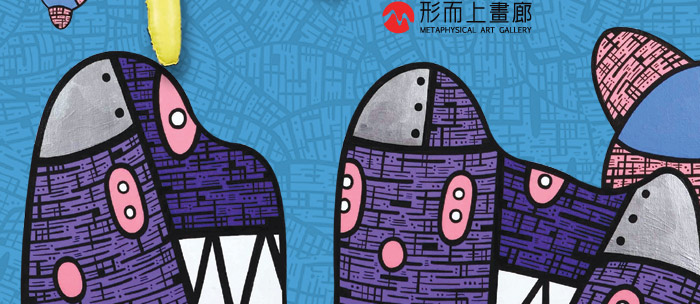 Could life repeat again?

In fact, life is like an intense game. Just like playing a game. In Eddie's new concepts, you will see the images with skull characters, they are called Monsters. But in actual works, you will be seeing different images with those monster images. Face of storyteller will be overlapping with Monster images and bring effect as if storyteller is stocked inside of the games. Continuing from the concept of 'Tension' series, living in busy and crowded life with full of tensions, we might feel as if we are living in intense games where things move so fast and small mistakes lead us to fall outs. But, we should not feel too bad about these fall outs, because we can always recollect ourselves and restart the games and letting life repeat again. Our lives are quite similar to those games. It is natural to hit bumps here and there while pursuing our everyday life. But, we can always start all over again and learn from our mistakes to move onto higher stages.

In Eddie bear exhibition, the artist wants to talk about the inevitable phenomenon of life especially when exposed in big city surrounded by many people. Various desires, unlimited imaginations are all crowdedly living in the squeezed space. The whole show should start with 'Tension' series. We sometimes face many obstacles created by society and circle of relationship. The robot on the bottom represents obstacles and pressure. Those are not necessarily negative. They are just something we have to go through as grownups. Balloon like figures, they are called "Reckless" representing other members of society who seem to be controlled by rules and disciplines. They tend to float around the surface of society naively, following the codes and rules. Also, they are not negative figures. Then in the middle, there are main characters, different for each painting. But they could symbolize us as the Eddie bear that lived in deep of our heart. Artist tries to reflect other people' lives through himself.

Painting mode is the most important characteristic in Eddie Kang's works. Colors, lines, texture and the quality of the painting surface are all his pursuit steadily for excellence. Even in his sculpture works, the surface layer is also the painting result of elaborate picturing. This demand of "never being slack" for painting quality is absolutely influenced by his mother. She is skilled in handling the subtle texture in her semi-objective paintings. Influenced imperceptibly by his mother from his childhood, Eddie develops his self-discipline more scrupulously. He puts in great effort to take care of the background of the characters so that the motif and the background could achieve equal-standard completion. And this was often ignored by general artists. Perfect-requesting mind reflects particularly on his sculpture works as well. Eddie absolutely can't stand the effect of others' replacement, so all the details have to get started by himself. Under certain assistants' help, he finishes every single piece of works to the best. Therefore, he only wants to create at most two or three editions sculptures. The reason is that his sculpture is just like his painting. Every piece has its complete content and characteristic as well as his projective feelings wholeheartedly.

Eddie's creation is a process of continual story telling. The story has both character setting and content script. He uses various virtual characters to depict diverse tastes of urban life and this process is just like he is making an animation film. So far, he has developed the characters--a dog" Loveless", a voodoo baby" Voo", a doll "Rag', a yellow rabbit with sharp teeth "Cabbit", a white rabbit " Moony", a pink bear "Bubble", a purple bear "Polar", a weird bear "Oni-B", a clown "Storyteller", a robot "Force", a balloon "Reckless", a cat "Loss", a panda "Pams", a jellyfish "Jelly" and a monkey named "Eddie", who in fact projects himself.

In Eddie's paintings and sculptures, these interesting characters arrange and combine to act out every kind of life episode. Moreover, there will be more new characters joining constantly in the new cast of derivational story. Then, it seems to be an endless and ever-changing life theater; be the infinite imagination towards unpredictable future. All kinds of designed characters look like toy dolls, but they actually have humanlike emotion expressions if we look at them carefully. All the expressions of delight, anger, sorrow, joy, gloom and fear can't be comprehended in a doll's world. Eddie metaphors helpless passivity in life with personified dolls who think they are living a master-like life, but in reality they are besieged, involved and hindered everywhere. It's usually a fact of life that they can't live independently.

I am a bear, kaleidoscopic, no matter the appearance looks like a dog, bear or human being, no matter the countenance is adorable, angry or lost, everyone could have a tender bear living in the bottom of heart with full of loves and passions. We could always dialogue with him when we feel disappointed or lonely; we could share happiness when we feel joyful as well.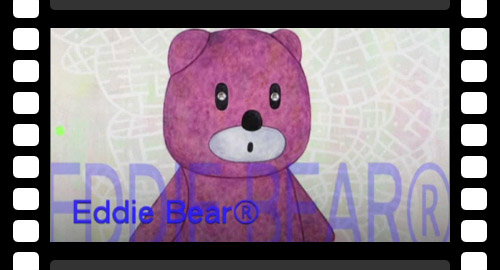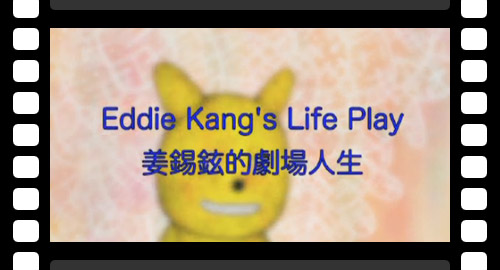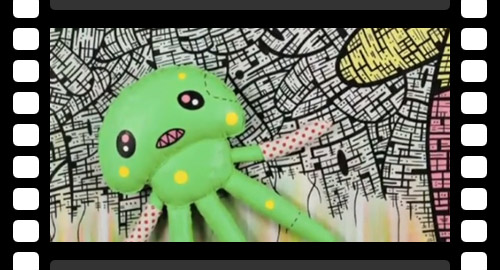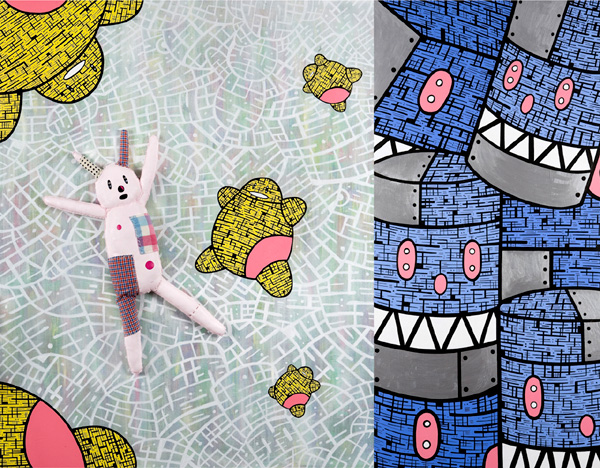 Bearing Karma Under Strong Tension¡@162x210 cm 2010¡@Handmade doll acrylic oil ink on canvas
Tension¢º¡@130x97cm 2010¡@Handmade doll acrylic oil ink on canvas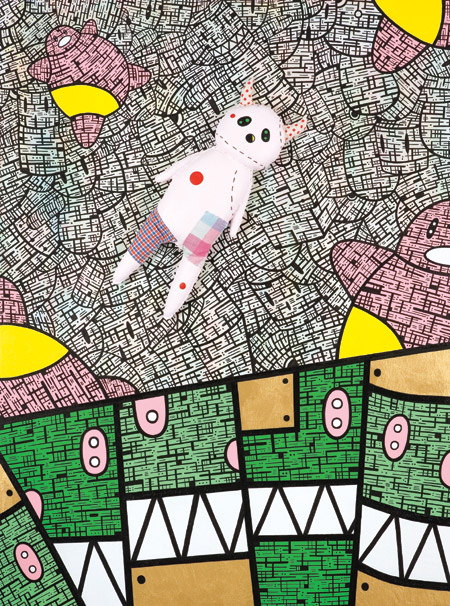 Tension ¢»¡@130x97cm 2010¡@Handmade doll acrylic oil ink on canvas
Tension¢¹¡@130x97cm 2010¡@Handmade doll acrylic oil ink on canvas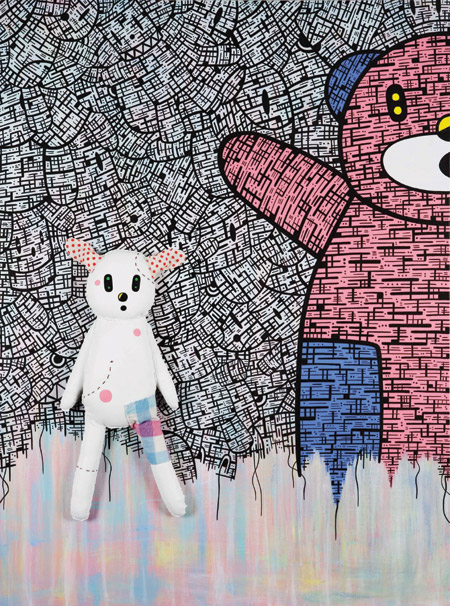 Confrontation¢¹¡@130x97cm 2010¡@Handmade doll acrylic oil ink on canvas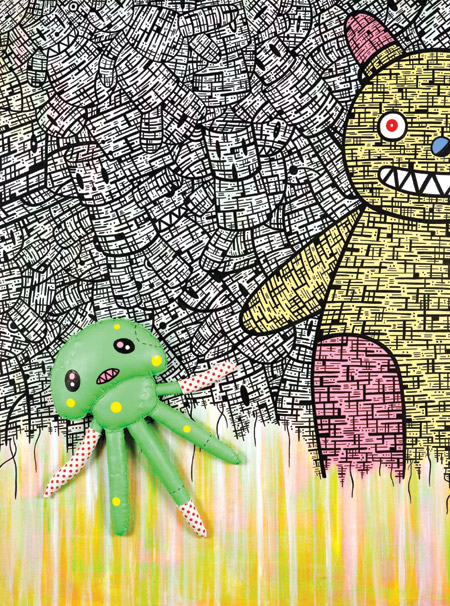 Confrontation¢º¡@130x97cm 2010¡@Handmade doll acrylic oil ink on canvas
Confrontation¢»¡@162x130cm 2010¡@Handmade doll acrylic oil ink on canvas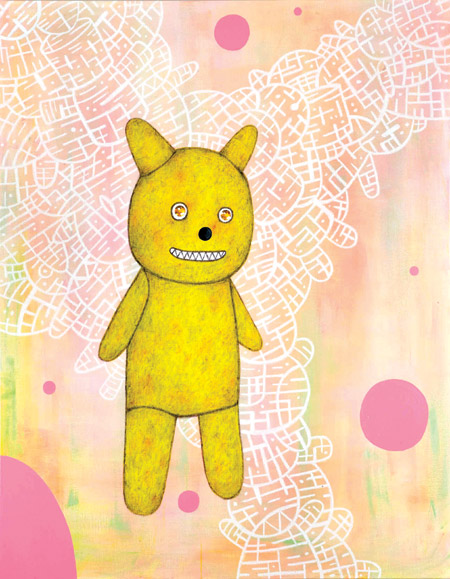 Bearing Karma¢¹¡@116x91cm 2010¡@Oil acrylic ink and Swarovski crystal on canvas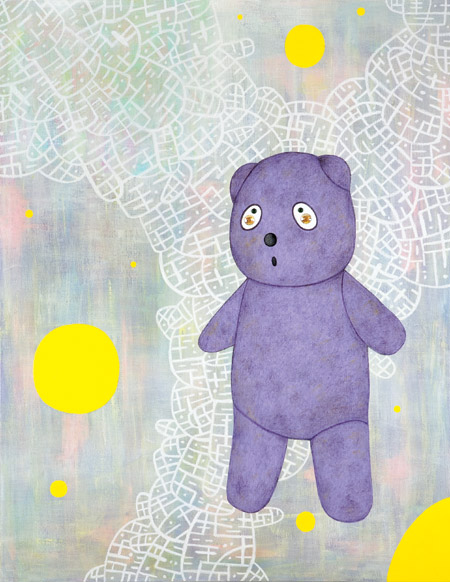 Bearing Karma¢º¡@116x91cm 2010¡@Oil acrylic ink and Swarovski crystal on canvas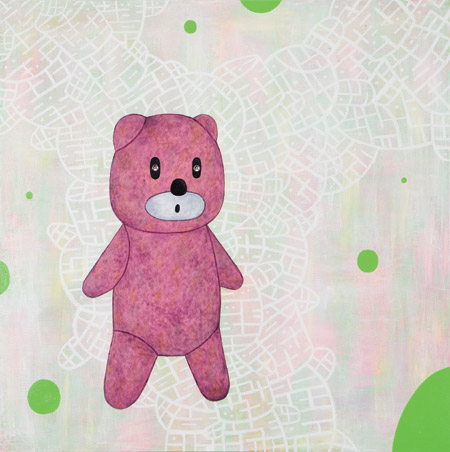 Bearing Karma ¢¼¡@80x80cm 2010¡@Oil acrylic ink and Swarovski crystal on canvas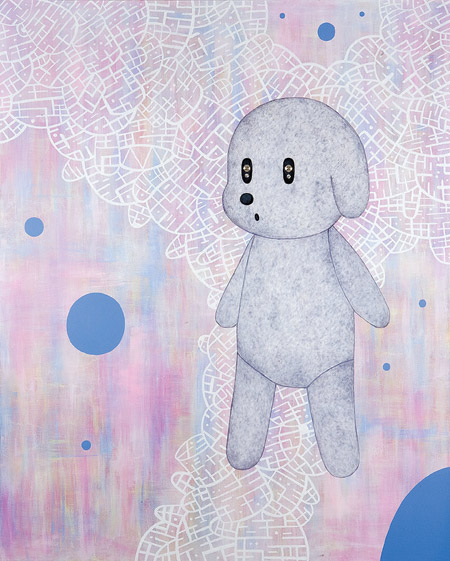 Bearing Karma¢»¡@162x130cm 2010¡@Oil acrylic ink and Swarovski crystal on canvas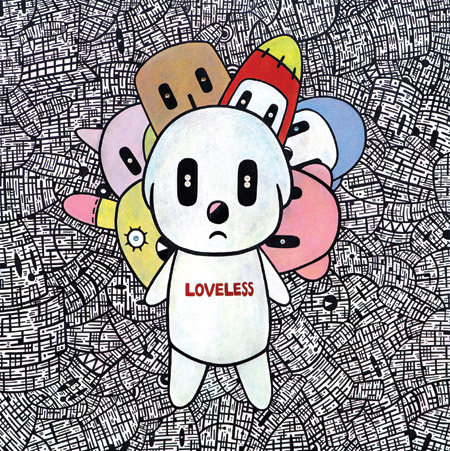 Karma ¢¼¡@80x80cm 2010¡@Oil acrylic ink and Swarovski crystal on canvas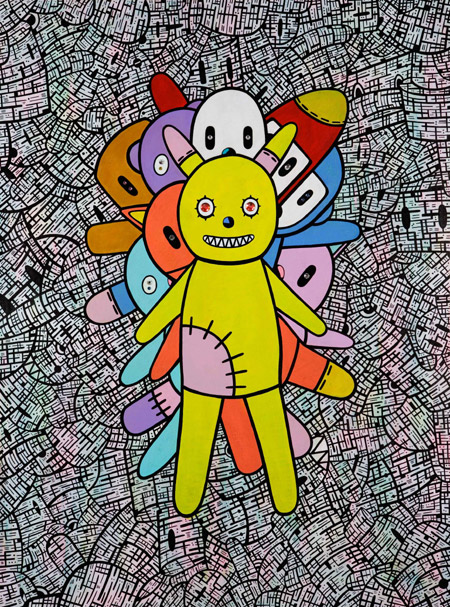 Karma¢¹¡@130x97cm¡@Oil acrylic ink and Swarovski crystal on canvas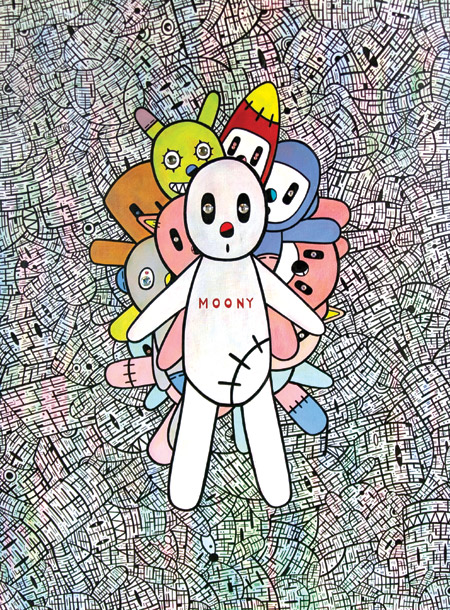 Karma ¢º¡@130x97cm 2010¡@Oil acrylic ink and Swarovski crystal on canvas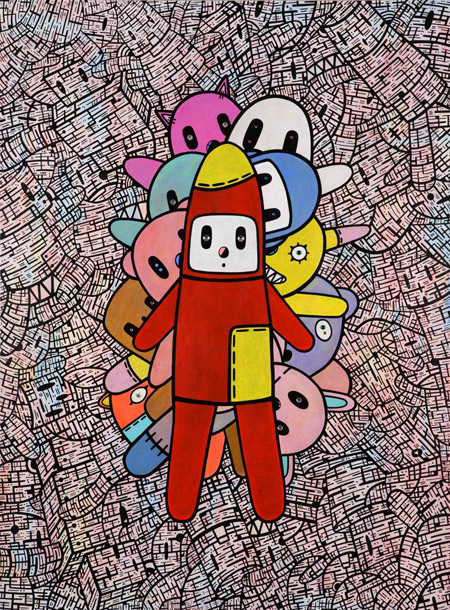 Karma¢»¡@130x97cm 2010¡@Oil acrylic ink and Swarovski crystal on canvas
Stand still in the middle of tension¡@38x38cm 2010
Oil acrylic ink and Swarovski crystal on canvas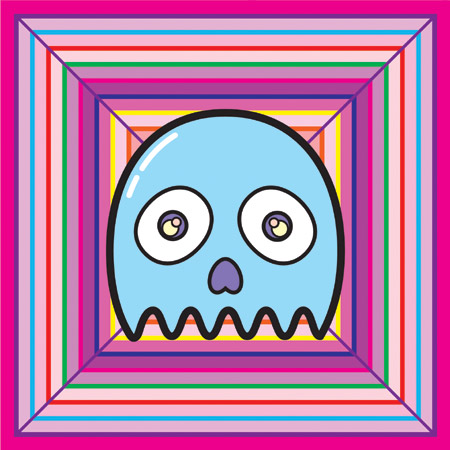 Life is like an intense game¢¹¡@50x50cm 2010¡@Digital print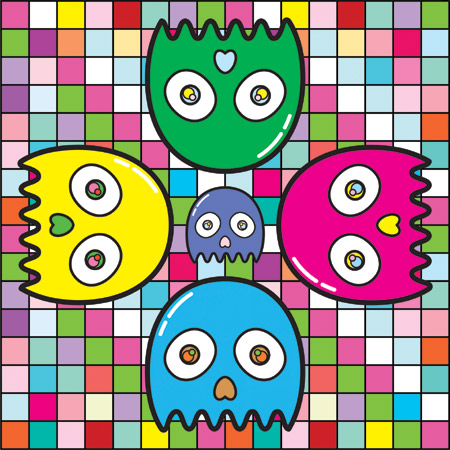 Life is like an intense game¢º¡@50x50cm 2010¡@Digital print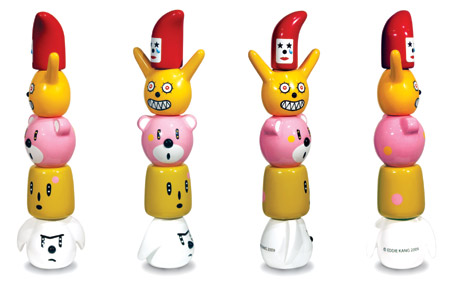 Karma¡@60cm height 2009 Edition13¡@Sculpture FRP Steel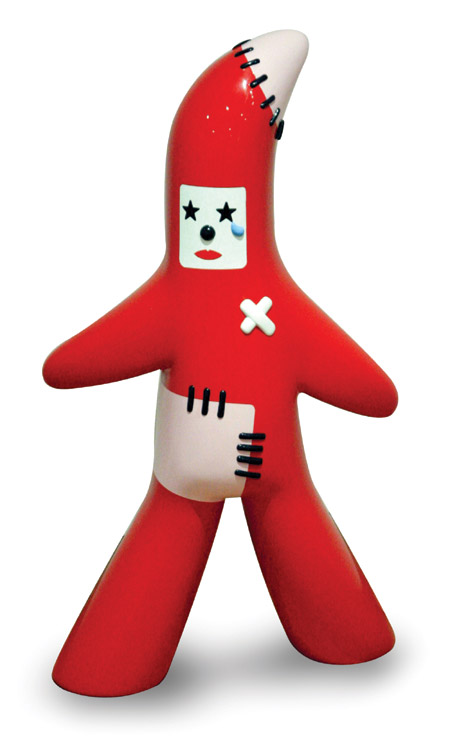 Life is like an intense game-Storyteller¡@100cm height 2010¡@Sculpture FRP

2003
Rhode Island School of Design (BFA in Fine Art: Film/Animation/Video)
Selected Solo Exhibition -
2010
Eddie Bear®---Eddie Kang's Life Play, Metaphysical Art Gallery, Taipei, Taiwan
2009
Tokyo Reflection, Unseal Contemporary, Tokyo, Japan
I am waiting for you, Park Ryu Sook Gallery, Shanghai, China
2008
I am a bear, Metaphysical Art Gallery, Taipei, Taiwan
Lost in the shadow of forgetfulness, Gallery Café Miel, Seoul, Korea
2007

Drawings & colors, designer zoo Gallery, Seoul, Korea Solitude, Gallery/Café Miel, Seoul, Korea

Art Dolls(sculpture show), Shinsegae Department Store, Seoul, Korea
Christmas Night, Donghoon Tower, Seoul, Korea

Selected Group Exhibition -
2009
KIAF 2009, Gallery IHN, Seoul, Korea
Hong Kong Art Fair 2009, Gallery IHN, Hong Kong, China
Art Asia 2009, Miami, U.S.A (Gallery IHN)
2008

SH Contemporary 2008, Park Ryu Sook Gallery, Shanghai, China

Art Taipei 2008, Metaphysical Art Gallery, Taipei, Taiwan
Super Animamix, Metaphysical Art Gallery, Taipei, Taiwan
KIAF 2008, PKM Gallery, Seoul, Korea

2007
3rd Life 4th Dimension, San-Yat Sen Memorial Hall, Taipei, Taiwan

Animamix Biennial, Museum of Contemporary Art, Shanghai, China

2006

Stasis & Motion, Triad Gallery, Seoul, Kroea

2005

RISD: Re-Examined, Naos Nova, Seoul, Korea

2002
3 Men Show 'Alone Together Part II' Gallery Chairs on the Hills, Seoul, Korea