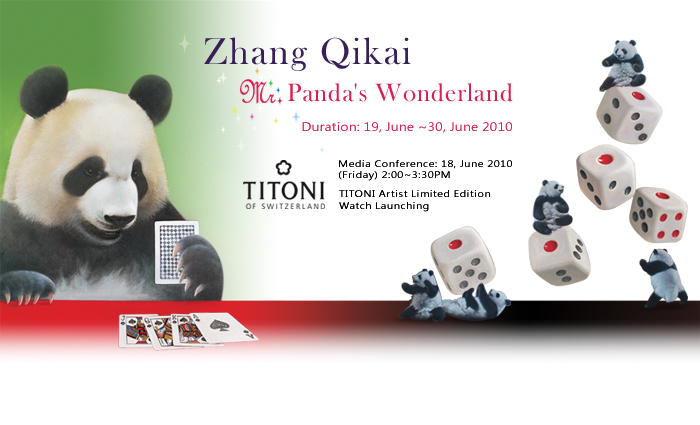 Opposite thinking has incubated an incredable tension of contradictory.
An imaginary space: full of strange light, uncontaminated. The symbols that Zhang Qikai created – Civilized society; in that space, the Panda have been travelling around in Super Dimension scenario or sitting on the fired match or lie down on the fresh and juice's fruits and flowers. They are different symbols – nature and individual. In this impossible setting the conflict between human civilizations and nature appears, as well as the conflict between society and the individual. This surreal expects actually have a long history; somewhere in time appeared in inner of the heart, they are ubiquitous,

Zhang Qikai was born in SiChuan Province in 1950, who is the famous German-Chinese artist and critic, Once he studied art in Japan from 1987 then migrated to Germany in 1990. Zhang Qikai's arts are in the same vein as Modernist thought, striving for a foothold in the contemporary ranks. He always took a critical standpoint in his art, making use of a vigilant language, whilst striving to preserve an elegant state of form, and emphasizing the visual system of aesthetics.

Fuzzy Panda is a character and symbolic of Zhang Qikai, their lonely figures are often placed in uniquely-lit architectural spaces. The paintings executed strictly in accordance with the rules of perspective creating a virtual, surrealist space, full of calm, mature and non-fairy tale aesthetic mood. However, portray described the reality, such as we may have seen all around us: floating in the cloudy sky, or upon a spoondrift, the crowded skyscrapers of the city…The panda keeps still in the air, personified leaning on such tiny delicate objects as a flower, an apple or a ring. Disorder and dislocation in size measure would deal with diverse visual signs in portfolios to catch your eyes accompanied with countless surprise and admiration. In particular, the dramatic voyage of these exhausted little pandas conveying a huge football as if it is filled with teamwork in life journey. The drumbeat follows by hilarious scenario to kick off the World Football.

Under the spoil and protections of humanity, the panda has already solemnly accepted as a totemic symbol of the Chinese people. It differs from animals have utilized in the past in that it does not appear as a passive creature lost in thought upon the canvas; it appears in anthropomorphized attitude actively assessing what is happening in the world around it. Without a doubt, the panda here is only a symbol; it does not seek to alter the established order of human history, whereas the past of humanity, it presents and future fill us with such anxiety. In the paintings, the fuzzy panda has no heroic mettle; he is experiencing the vast movements of human society, and is filled with a mixture of curiosity and suspicion at all that occurs around him.

Big panda looks down contemplating an unforeseen world as if a match lights the sky of the Wall Street and it seems never die out.¡uWheel of good fortune¡vgoes through the universe and tosses around the next era to be desired.¡uFall in Love with Mona Lisa¡vis as a centurial-long legend in hopes of meeting the most beautiful one in the end.

Zhang Qikai's new creation---" Zhang Qikai's wonderland" is talk about the East-West relationship, the cultures of China and the West have been in a state of mutual enrichment and mutual resistance. the panda refers to China; on the other hand, the apple from the Garden of Eden, Wall street and Louvre Museum are symbols from the West. There are appearing in the fictitious space, they will generate an intense opposition in artistic language, whilst they are images that the audience is familiar with, so that in terms of imagery they are easier to identify with.

The artist deploys such typical symbol as the panda flying across the magical cosmos. By means of ridiculous and humorous painting, this kind of communication is full of fun that has built a surreal world to get away with the reality by leading audiences to enter another astonishing magic space.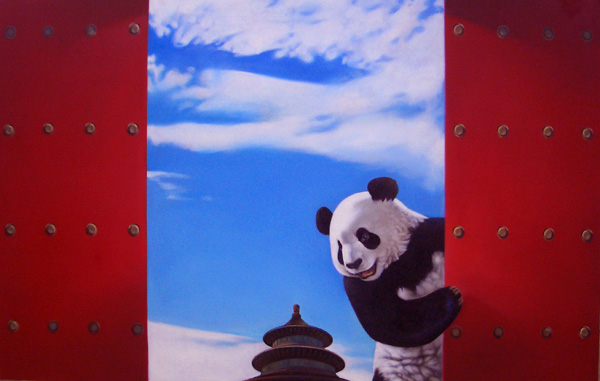 Lucky when Opening the Door¡@120x200cm¡@2005¡@Oil on canvas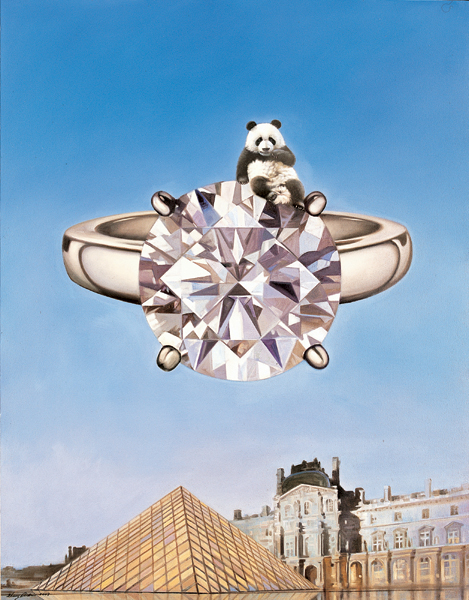 Fallen in Love with MonaLisa¡@180x140cm 2009¡@Oil on canvas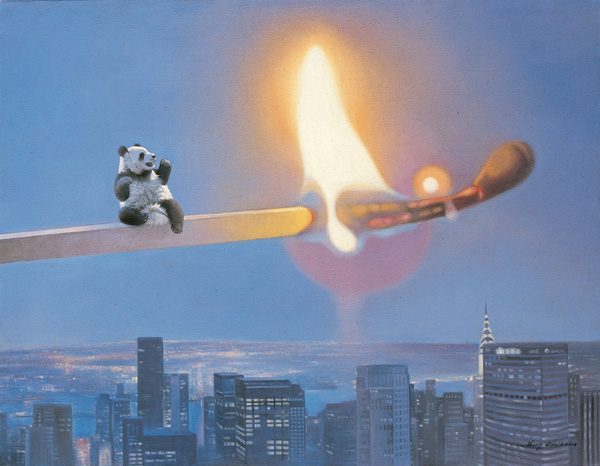 A flame of hope will never die on the top of the Wall street¡@140x180cm 2009¡@Oil on canvas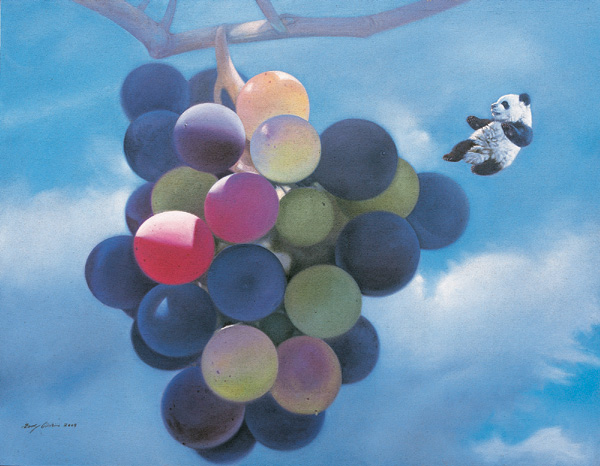 Grapes of 10 decades¡@140x180cm 2009¡@Oil on canvas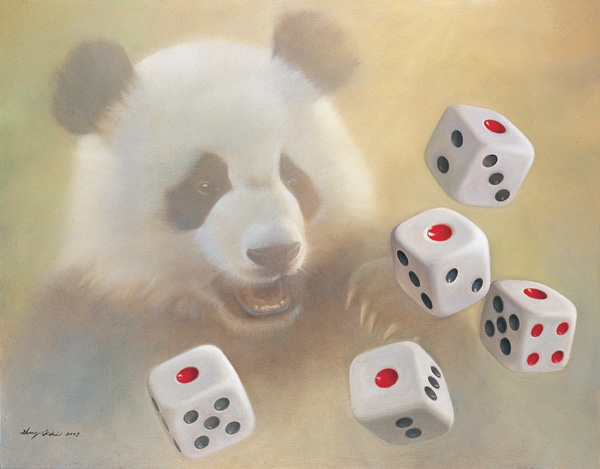 Wheel of good fortune¡@140x180cm 2009¡@Oil on canvas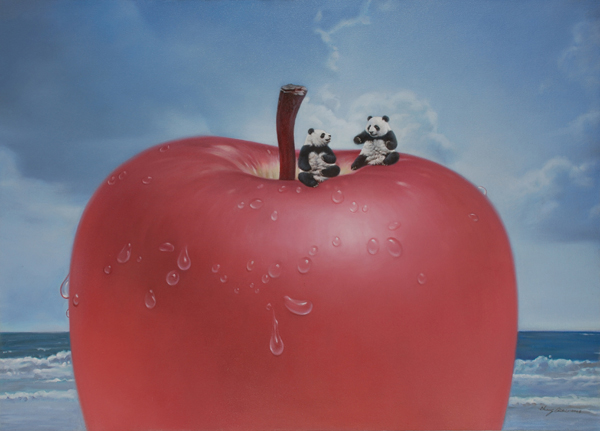 Eva's Apple, made in China No.1¡@140×195cm 2008¡@Oil on canvas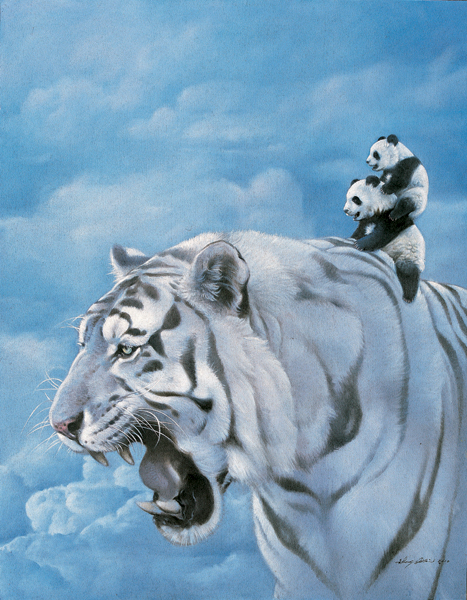 Era of Tiger¡@180x140cm 2010¡@Oil on canvas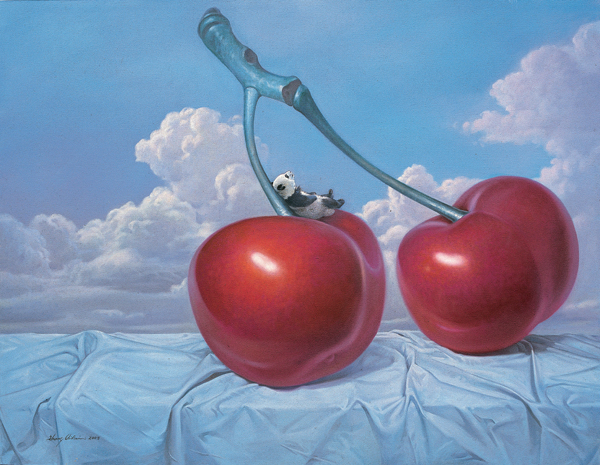 Sandbox-holic¡@140x180cm 2009¡@Oil on canvas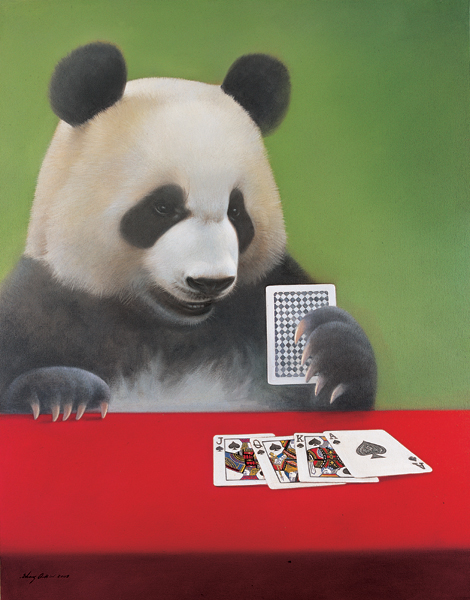 Take a guess!¡@180x140cm 2009¡@Oil on canvas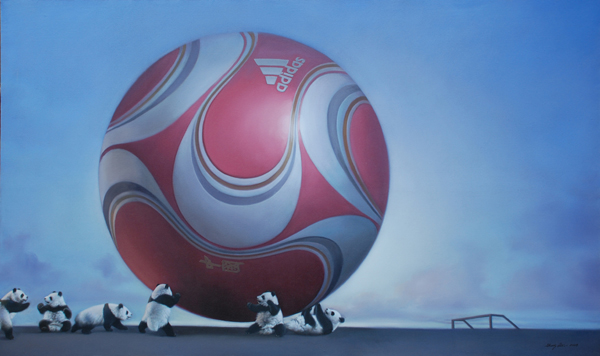 Dribbling -Left¡@180×300cm 2008¡@Oil on canvas
Zhang Qikai, who is the famous Chinese-German artist and critic, was born in Shehong County, Sichuan Province in 1950, and moved to Chongqing with his family in 1953. Once he studied art in Japan from 1987 to 1990, then migrated to Germany in 1990. Mr. Zhang devoted himself to art education and cultural exchanges between East and West after he came back to China in 2000.
1970

Born in at Shehong, Sichuan province, China

1972
Art Exhibition of Chongqing, China, Chongqing Museum, China
1979
First Art Exhibition of Popular Science and Technology, National Gallery, Beijing
1980
Initiated and organized "Weed Society" with friends
Art Show of "Weeds", Chongqing, China
1983
First Sichuan Exhibition of Oil Paintings, Sichuan Provincial Gallery,
Chengdu
1985
Art Exhibition of Chinese Youth in Progress in Celebration of the International Youth Year, National Gallery, Beijing.
1987
Left China for Japan by sea
1987
13th Exhibition of Japan International Modern Artist Association, Metropolitan Gallery, Tokyo
1988
14th Exhibition of Japan International Modern Artist Association, Metropolitan Gallery, Tokyo; prizewinner of Dr. Ogn. Art Exhibition of "Cinkado" Gallery, Tokyo
1989
Attended Tamatsi University of Fine Arts
Single Exhibition at Osaka, Cultural Center of China, Osaka
56th Exhibition of Artist Association, Kanagawa, Japan; winner of a special prize
15th Exhibition of Japan International Modern Artist Association, Metropolitan Gallery, Tokyo, Japan; Prize-winner of international art
1990
Single Exhibition, Shinjuku Gallery, Tokyo
1990
Migrated to Germany
1991-1995
Art Exhibitions of Free Berliners(FBK), Berlin
1991
17th Exhibition of Japan International Modern Artist Association, Metropolitan Gallery, Tokyo, Japan; winner of the Speaker's Prize
1995 Art Exhibition of Five Chinese Artists, Berlin, 4024 Studio, Berlin
1996
"Maloka-Art from the Margin", an International Invitation Exhibition, Kassel, Documentary Gallery (documenta-Halle), Kassel, Germany
Art Exhibition of "Juxtaposition-Chinese Artists in Berlin", Exhibition Hall, Berlin University of Fine Arts, Berlin
Single Exhibition, "Cleditsch 45" Gallery, Berlin
Single Exhibition of Schelling Art Committee, Schelling Gallery, Berlin
1997
Single Exhibition at Frankfurt, Keller Gallery, Frankfurt/Oder, Germany
China's Art Exhibition, Shanghai Gallery, Shanghai
Single Exhibition, Berlin, by German-Chinese Cultural Exchange Association, Holderlin Research Institute, Tubingen, Germany
Art Exhibition of "I Am a Berliner", St. Matthaus Church, Berlin
1998
Single Exhibition, Tokyo, "o"Museum, Tokyo
Exhibition of Two Artists at Vollmar, Gallery of city Hall, Vollmar, Germany
"The Celestial Axis-Berlin International Invitation Exhibition for communication", Prisma Haus, Berlin
Art Exhibition of "Two spaces, One Subject" eine welthhaus, Magdeburg, Germany
1999
Single Exhibition by Zhang Qikai, Shanghe Art Gallery, Chengdu
2000
Single Exhibition in Chongqing, China
2002
Curated the Performance Art of "International New Long March – Across the Europe"
2006
"Entry Gate¡GChinese Aesthetics of Heterogeneity, Biennale of MOCA Shanghai", Museum of Contemporary Art Shanghai, China
Curated the the World Tour Exhibition of "50 Jahrs/Years of the documenta-Archive in Motion 1955-2005", Chongqing Art Museum of Sichuan Fine Arts Institute, Shanghai Zendai Museum of Modern Art
2007
"The 3rd Art Biennale of Guiyang" Guiyang Art Museum, China
"30 Years of Sichuan Art School" Beijing YIBO Gallery, Sino-Foreign Culture Communication Center, China
2008
Single Exhibition in London, the U.K. Marlborough Fine Art in London, the U.K.
Single Exhibition in Chengdu, Chengdu Art Academy, China
Collection -
1985
Acquired by the National Gallery, Beijing.
1991-1998
Berlin Art Promotion Committee, Germany consecutively acquired his works of art
1996
Painting being acquired by Schelling Art Committee
1998
Painting being acquired by the city government, Vollmar