Of an expressive and unrestrained art in the same open-minded age, the stage extends from local to the international arena. What is being sought is a face bearing traits of distinctive local characteristic, an extraordinary and independent sign. ?

Owing to natural differences in histories and surroundings, Taiwan, Japan, China and Korea each develop their own social structures and cultures that reflect national disposition. The historical unfolding of art also reveals original observations and traces according to the pulsation of time.

Contemporary is the accumulation of history; every epoch means an opportunity right here and now. Throughout the century-long art history of Taiwan, there has appeared important events one after another. The recent decades especially are a lot of happenings, witnessing an outburst of profound and inward expressions like traceless waves coming in and going out. Contemporary Taiwanese artists, who appeared on the horizon in the 80s, particularly tend to have a rich cultivation in regional literature and a direct link to an awakening of sense of nativeness after the Martial Law was lifted. They shouldered responsibility for the future development of Taiwan, engaging in a re-reading of history and re-examination of social phenomena in a humorous, ironic, critical and introspective way.

Wu Tien-Chang¡¦s ¡§Icons of History¡¨ is an illustration with special emphasis on the age-making heroes. Yang Mao-Lin¡¦s ¡§Made in Taiwan¡¨ sets out to search for a new totem for Taiwan so as to write a new myth. Cheng Chien-Chang, with honest sincere human faces, exhibits the vitality originating from the earth. Su Wong-Shen utilizes the animal dog as a metaphor to represent the population ecology in Taiwan. His overlooking observation point shows an alternative sense of humor. Hwang Jyi brews brilliant deconstructionist thinking from mysterious wonderlands of interwoven and complicated images. Huang Ming-Che uses intertwining color threads to wave a world of sensual pleasures and a solid of cool beauty that tells an obscure tale of the metropolis in a cool manner. Lee Ming-Tse frankly pours out his dreams, his humors, his surroundings, his compassions and his melancholy. Lin Wen-Chiang searches for an expression characteristic of the earth and primitive life-force from farmers of large and stout build. Lu Hsien-Ming loudly pronounces a foregoing morale and attempt with precise and firm structures of overpasses.

¡§I miss the comrades of then; we worked hard together. I miss that kind of pure insistence, an absolute confidence,¡¨ said Wu Tien-Zhang. Every one, with their sincere faces, has managed to interpret this dear motherland and a metaphysical soul. And today, after two decades, these artists continue to manifest their new expressions that are still the icons of Taiwan, shining under the sun and carrying even deeper profundity than they used to be. Just as Yang Mao-Lin is in his full swing reshaping a modern myth of the 21st century without bounds and limits, so are other artists creating a modern legend with their pens and brushes. And this legend has not reached its end yet¡K.

Temptation
1988¡@116.5 x 91cm
Oil on canvas

Plentiful Harvest
1997¡@91 x 72.5cm
Oil on canvas

Affectio
2008¡@240 x 98cm
Oil on canvas

Appreciation Alone
2008¡@98 x 240cm
Oil on canvas

Zeelandia MemorandumL9304
1993¡@116.5 ¡Ñ 160cm
Oil on canvas

Welcome
1998¡@116 ¡Ñ 182cm
Oil on canvas
Contemplative Peter Pan Bodhisattva Rides on Acrida Turrita
2007¡@90 x 57 x 80cm
Stainless steel

Contemplative Peter Pan Bodhisattva Rides on Anotogaster Siebldii Selys
2007¡@115 x 112 x 178cm
Stainless steel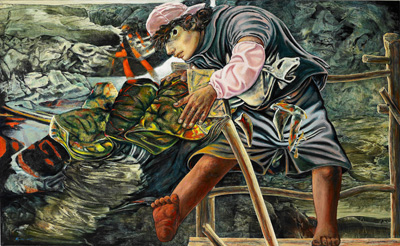 Genesis


1991~2007¡@129.5 x 211cm


Oil on canvas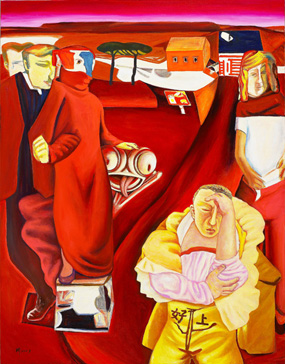 Unspeakable Age


2007¡@116.5 x 91cm


Oil on canvas
Creating Artist
1995~1999¡@130 x 97cm
Oil on canvas

Daisy
1992~1999¡@130 x 97cm
Oil on canvas


A -16

1984¡@62 x 92cm


Mixed material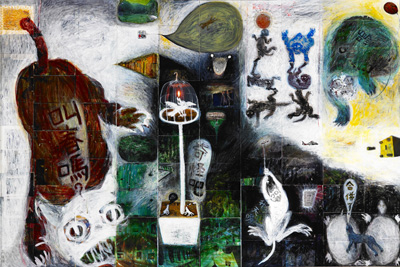 Expression


2004~2007¡@100 x 150cm


Mixed material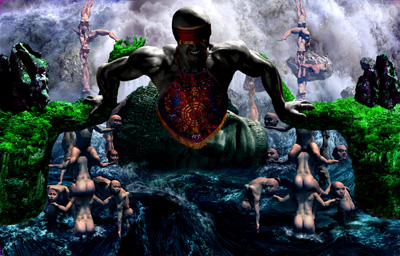 Overwhelming


2005¡@120 x 188cm


Laser printing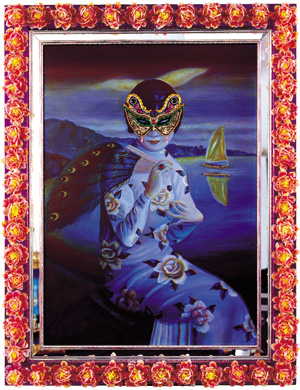 Spring Dream III


1996¡@120 x 80cm


Mixed material
Ancestor Series~ To Taiwan
1991¡@72.5 x 60.5cm
Oil on canvas

Ancestor Series~ To Taiwan
1991¡@53 x 45.5cm
Oil on canvas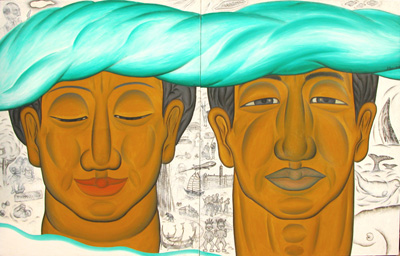 Gene Code of Spirits


1999¡@162 x 260cm


Oil on canvas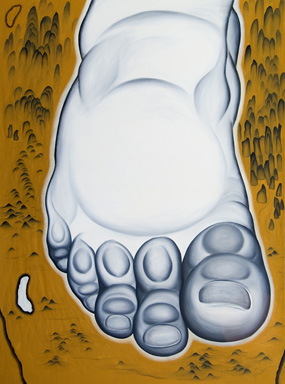 The Feet Stepping on the Land


1999¡@260 x 194cm


Oil on canvas
Dialogue with Master
2007¡@162 x 130cm
Acrylic on canvas

Dancing Immortal Tree
2006¡@162 x 130cm
Acrylic on canvas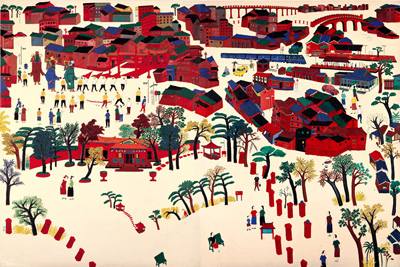 Vanity Fair


1989¡@160 x 240cm


Acrylic on canvas

Nature Affection 1


1992¡@180 x 160cm


Acrylic on canvas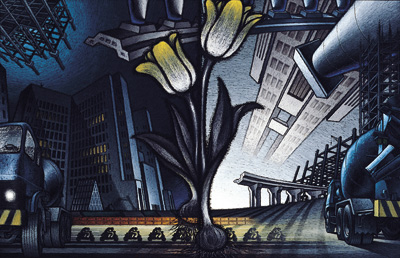 Flower Sacrifice


1994¡@390 x 250cm


Oil on canvas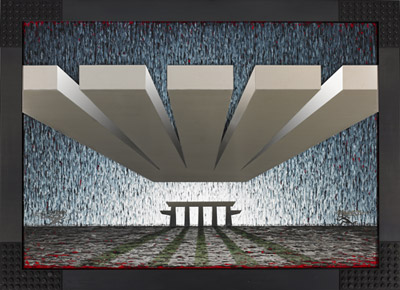 Dash


2008¡@132 x 182cm


Mixed material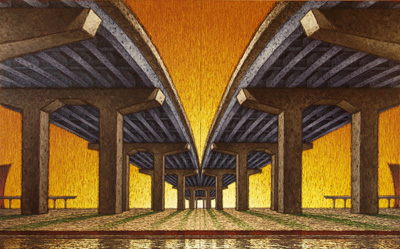 Raise


1996¡@364 x 277cm


Oil on canvas